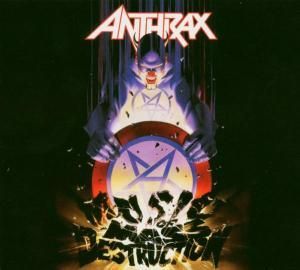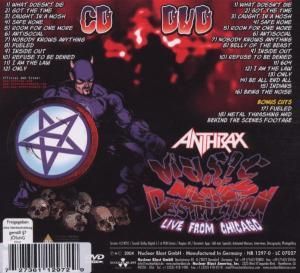 inhalt :
alles was das herz eines anthrax fans begehrt. in der tracklist finden sich sowohl aktuelle stücke wie "what doesen't die" und "safe home" als auch die guten alten klassiker wie beispielsweise "antisocial", "i am the law", "caught in a mosh", "be all, end all" und viele andere.
sie gesangsleistung von john bush ist ganz ordentlich. mir persönlich gefiel joey belladonna zwar um einiges besser, aber man soll ja nicht in der vergangenheit leben. der 2. gitarrist hat zwar eine lächerliche frisur, spielt den anthrax kram aber ganz ordentlich. frankie bello ist ja nun auch nicht mehr im line up und auf der dvd ein letztes mal zu sehen. scott ian spielt wie immer erstklassig und kaspert wie rumpelstielzchen auf der bühne herum. und das timing-wunder-uhrwerk charlie benante spielt tight wie eh und jeh.
gewöhnungsbedürftig finde ich die bildteilung die immer wieder mal eingeblendet wird. auch die vielen einspieler finde ich persönlich eher schlecht. das zerstört irgendwie das "live" feeling. ein ähnlicher "fehler" wurde schon bei slayer's dvd "war at the warfield" gemacht.
an der tonspur gibt es eigentlich nicht viel zu meckern. gut, man kann sich fragen warum man eine 5.1 spur "verschwendet" hat. vernünftig abgemischt ist diese dvd jedenfalls nicht. aber wie liest es sich so schön im vorspann : "5.1 - what ist it ? - no idea, but it sounds great !" trotz und alledem ist der sound schön druckvoll und wenn man die anlage hübsch aufdreht, kann man sich auch ordentlich die rübe abschädeln...
fazit - alles in allem eine ordentliche dvd, die füranthrax fans und leute die es werden wollen allemal empfehlenswer ist !
wenn ich punkte von 1 (schlecht) bis 10 (gott) vergeben müsste, würde ich dieser dvd 7 (gut) geben